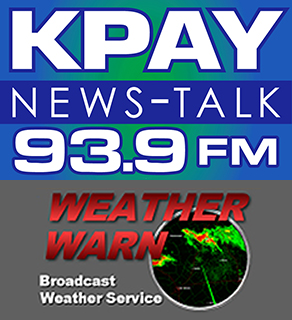 KPAY WeatherWarn Web Site
12/10/2023
Welcome to the KPAY WeatherWarn account manager.
Sign up for a new account, modify your existing account, request your user information be sent to you or unsubscribe from WeatherWarn.

Amber Alerts are broadcast on this system!
Be sure to Select Child Abduction Emergency/Amber Alerts from the list of bulletins that can be sent to you!
---
New User?

Sign up here:
Login:
Current subscribers login here to access and edit your existing WeatherWarn account.
(Requires Cookies)
Forgot your username and/or password? Click here.
Want to Unsubscribe?
If yes, enter your user name and password above, and click here *:
* WARNING: If you do this you will no longer receive WeatherWarn reports. HINT: If you just want to temporarily stop receiving bulletins, you can log on and click the button to disable your account temporarily.
---
Troubleshooting & FAQ's
Click here to visit our Troubleshooting and Frequently Asked Questions page for problem solving.
---
A NOTE TO ALL SUBSCRIBERS:
WeatherWarn receives bulletins authored and transmitted by the National Weather Service (NWS), Storm Prediction Center and other related government agencies. These agencies, at times, will send multiple bulletins depending on the severity of weather conditions. By subscribing to WeatherWarn, you will receive the warning bulletins you choose, in the counties you select. If multiple bulletins are sent to counties to which you subscribe, you will receive all of these bulletins as email messages (you may receive what appear to be duplicate alerts).
© 2023 WeatherWarn